Burgess Company offers the combination of premier installation and quality products due to strategic relationships with a variety of specially selected industry leading manufacturers. These exclusive relationships allow us to offer exceptional consultation and budgeting services across Oklahoma.
To schedule an architectural consultation or receive product or budgeting information, please contact Erika Wright at 405.630.6538 or ewright@burgess-co.com
one of the things we hang our hard hats on, is being able to take on very specialized projects. check out our most recent challenge, the university of oklahoma ash dome installation:
KALWALL TRANSLUCENT BUILDING SYSTEMS
Museum-quality daylighting available along with superior thermal performance options – all while reducing a building's carbon footprint. All of our daylighting products rely on our innovative, sustainable, lightweight structural sandwich panels that are revolutionary in fenestration technology for their combined light quality, energy efficiency and solar control properties.
STRUCTURES UNLIMITED DAYLIGHTING
Our unique total building systems for structural skylights, skyroofs, pool enclosures and canopies/walkways offer a pre-engineered box beam system that can span areas in excess of 100 feet, while providing a clean, finished appearance that is virtually maintenance-free, energy efficient and highly corrosion resistant. Ideal for LEED projects, high winds, and snow loads.
McKeon Door Company is a trusted manufacturer of overhead and side activated coiling grilles, doors, fire door systems, custom engineered enclosures and FEMA/ICC certified wide span coiling doors for safe rooms and storm shelters. With more than 50 unique products, McKeon has a door or grille to accommodate virtually any opening. Gone is the need to sacrifice open design to meet fire code.
smokeguard fire & smoke curtains
Smoke Guard provides innovative and aesthetically appealing fire and smoke protection systems to fit any purpose and opening in a building. This complete range of curtain systems is flexible - both physically and in application. Smoke Guard protection systems can cover every opening, from small dimension dumbwaiters and pass through counters to expansive atrium spaces.
SYNTEGRA integrated doors
A fully-integrated door system wherein all working hardware is pre-assembled into a completely functional, single working unit. This allows us to deliver a complete door assembly to your project that is fully functional, field adjustable and ready to hang. Superior design, extraordinary engineering, quality craftsmanship, unparalleled customer service with remarkable field service and support.
Access flooring has become standard in many types of construction projects and can greatly assist in gaining LEED points. This cost effective solution provides infinite flexibility, adaptability and capacity while reducing building life cycle and operating costs. Access floors are regularly used in offices, libraries, data centers, casinos, educational and medical facilities. High quality finishes are now available.
CII PLUG & PLAY POWER & CONTROL
Communications Integrators Inc has pioneered the design and manufacturing of modular power, voice and data solutions. Save time and money every time you build and rebuild your space - learn the many benefits of modular and why it's the only way to build for the future. As a proud member of the U.S. Green Building Council, Cii is committed to designing innovative solutions that optimize sustainability.
doorwall - Upward moving operable door systems
NEW DoorWall Systems allow you to convert spaces, connect worlds, and design without limits. These new-to-market architectural direct drive doors require no springs, cables, straps, belts, hoses or any other high maintenance components. This system is the industry's strongest and safest operable door of its kind and can be customized to fit your specific design.
jointmaster expansion joint covers
We have teamed with JointMaster, a division of InPro Corporation, due to their broad product offering, excellent customer service and high quality of product. Burgess Company has over 15 years of experience in expansion control joints, offering complete consultation, product selection, budgeting, estimating and installation services.
Whether it be external steel or plastic, internal trash, recycling or laundry or the accompanying necessities such as compactors, baggers, containers, odor control for the trash room - our goal is to bring you new, innovating products made from exceptional materials, and offer them at an affordable rate, and to provide each customer with exemplary service.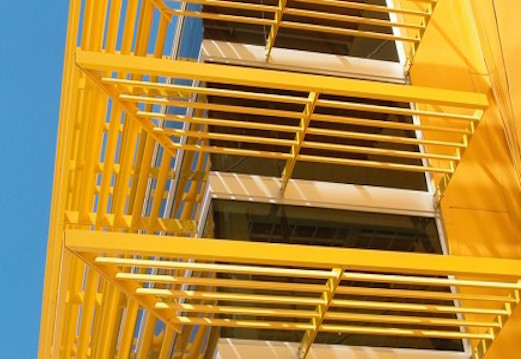 industrial sunshades & louvers
Industrial Louvers, Inc. has been a major supplier of products since its founding in 1971. A designer, developer and manufacturer of architectural louvers, equipment screens, decorative grilles, sunshades and column covers, the company has consistently provided high quality to the industry.
ECOGLO PHOTOLUMINESCENT EGRESS
Ecoglo is an innovator of photoluminescent safety products. Their mission is to create a safer environment for people of all abilities while reducing liability exposure to their customers. The core focus of upgrading accessibility routes and infrastructures projects to reduce the potential for trips and falls has been the basis of their success.
slotted channel auxiliary framing
Slotted channel framing systems allow for infinite structural flexibility for medical support systems, auxiliary framing systems, storage racks, rooftop walkways and solar panel support. The Burgess Company team possesses a unique knowledge of how the strut components assemble with maximum structural integrity.
wire mesh security cages & partitions
Standard Wire & Steel Works is a leading manufacturer of wire mesh partitions and cages. Our panels can be used as single wall partitions, or can be configured into cages and enclosures. The partitions and cages are used for securely enclosing areas and storing items in a fully visible and ventilated environment.